Grade 9
Eastern Canada Trip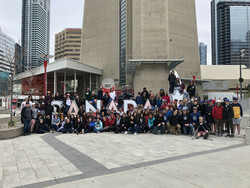 Each year, grade nine students from Crowther Memorial have the opportunity to take a week long school trip to Ontario and Quebec, known as the Eastern Canada Trip. On the trip, they visit Niagara Falls, Toronto, Kingston, Ottawa, Montreal, and Quebec City and take in as many sites as possible. Past trips have included the CN Tower, Hockey Hall of Fame, Blue Jays game, Parliament, Canadian War Museum, National Gallery of Canada, Canadian Museum of History, Diefenbunker, a sugar shack, Montreal's Parc Olympique, Notre Dame Cathedral, the Citadel and Old Quebec. Participation in all activities on the trip is mandatory and the trip can be physically demanding (lots of walking, a bike tour, not much sleep). Since we are missing school, this is an educational trip and students are required to participate in learning activities while travelling.
Western Canada Trip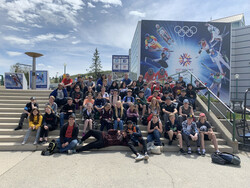 The Western Canada Experience is designed to be an alternative to the annual Grade 9 Eastern Canada Trip since May 2006.  Past trips have included Cobb's Adventure Park, Injanation Fitness and Fun, Laser City, Camp Chestermere, Winsport Mountain Biking, Winsport Activity Day, Mini Golf, Canada's Sports Hall of Fame, SHS Drama Production, CMJHS - "Cramazing Activities" (tri-bond, bumps, scavenger, gaga ball) and Joyland Theatre. 
Our day trips will include a variety of activities that focus on the importance of active living, team building, leadership, and communication skills. The field trips cover physical education, mathematics, science, social studies, language arts and so much more of the Alberta Curriculum.    All activities will be instructed, lead, and supervised by trained staff.  
We are flexible to work with families to allow payment plans to be made for the cost of this trip.   A  payment plan can be made by contacting Mrs. Fabris at the office, 403-934-4646.
Please note that we require a minimum of 50 students to participate in order for this week to run.  In the case that we don't have the numbers, regular classes will resume.