About
Grades Taught
Grade 7 - 9
About
Crowther Memorial Junior High is a grade 7-9 School in Strathmore, Alberta.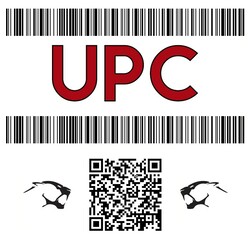 Welcome to Crowther Memorial Junior High School.  We are a Junior High (Grades 7-9) school serving Strathmore, Alberta and surrounding communities. On this website, you will find primarily policy and procedure documents.  We use social media for our day-to-day news and communication.  If you explore our Facebook timeline, you will find several years worth of announcements, photographs and information about our school and it is truly your best glimpse into life at Crowther as all staff contribute to this media on an ongoing basis.
Mission & Vision
United in our Diversity.
Passionate about our Learning
Confident in our Future.
Mission Statement Stories (submitted by Crowther Memorial Junior High Students)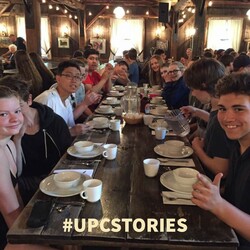 What illustrates CMJHS from the school year? Eastern Canada is the answer for many, and myself. Eastern Canada changed so many students way of thinking, and just how to appreciate the small things! Each student left Eastern Canada now thinking about their future. Who they want to be as a career title and as a person. This illustrates diversity within CMJHS because of the connections between other students and teachers on this trip. Each student may not like school, but now they all know that anything is possible. They can now reach any goal they want to set. The future is still yet to come, but it's good to be prepared. Eastern Canada was our goodbye from CMJHS, now we will say hello to our future and prove CMJHS proud!
When I walked in the school on September 1st I said to myself, okay this is my last year at CMJHS and I want it to be a blast! So I continued walking in and I saw a sign of UPC and i said "Hmmm this might make a difference in our school" So I noticed that it said United in our diversity, Passionate about our learning, and Confident in our future. The ones that popped out to me were the passionate about learning and confident in our future. So I'm gonna talk about passionate in about our learning first! When people walk into to crowther I sometimes hear them say "Today is gonna be boring! I hate school". But the one thing they are missing out on is that we have one of the best educations in the world! If you take a look in other countries like Syria or Iraq they have no education or VERY low education. So the questions we should be asking ourselves is "Would you rather have a good education and be successful in life or have a bad education and not be successful" and that question is really easy and I probably know what your gonna choose! When every student walk through those doors they should be reminding themselves "I have the best education" and be thankful for that because having a good education like ours will have a big impact in your future life wise. So that leads in to "Confident in our future". I am sure once grade 9s get done junior high they are going to be looking for a job! Just a job that can help you through high school and get some money saved for university. But some people don't get a Job and don't have the money for the important stuff. 
I saw a quote from Casey Neistat saying "Do what you can't" and that goes exactly with Confident in our future. So what if you want to be a web show host but you have that one person saying "You can't because you're not famous or you don't have a camera and crew for that" your probably thinking "right I can't do that I don't have the money" and that is probably bringing you down!! But if you have a phone, wifi connection, and an uploading app (Youtube) BOOM! you can be a web show host because it's not all about being famous or having a crew to do your work it's about doing what you want to do! If you look how other web show hosts got their popularity you gotta look because they didn't start out famous they had to work their way up dirt poor! But it only takes that one person to put you down from your dreams. But if you keep doing what you can't to get where you want to be in life you will succeed like right now you could be on the beach relaxing! But that is why CMJHS has put UPC into place so students can be proud of themselves and showing them that they matter!!
UPC Stories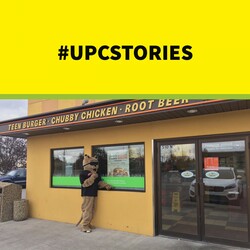 During this school year we had the privilege of watching a pow wow which was put on by the enthusiastic first nation students. Early on the morning of May 2nd the grade sevens during the first three blocks were giving a tour of a tipi that is owned by one of our students, then later on in the afternoon all students are brought into the gym and can listen to the chief telling stories about their history. Later on drummers and singers play while there are jingle dress dancers who are dressed in brightly coloured dresses lined with bells thatwith each step rings all the bells. Not only are the first nations showing off their culture the organizers of the event engages the students by letting them join in for some of the dances, one of the "games" is where you place a potato between yours and other persons head while maintaining eye contact you have to make sure the potato doesn't fall. For all students not participating they don't know how long it takes to get all this set up, it could take anywhere from weeks to even a couple months, the pow wow is a learning experience for many kids and a new one for all the grade sevens who maybe haven't seen a pow wow or been inside a tipi. As for the tipi it takes 3-4 people to set up this huge structure which was passed down from generation to generation until it became the current owner's. In this year'​s yearbook the "United in our Diversity" will feature the pow wow and personally, I hope that the pow wow will remain an event that is loved by new and old students year after year because it brings a totally new culture into our school.
UPC Stories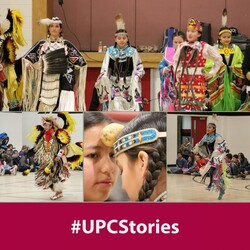 United in our diversity stands out the most in our Crowther's motto because I was part of the senior girls basketball team. Everyone on the team was included and supportive on the court and off the court. We were like a family all very different in many ways but when it came to basketball we all clicked! Practicing at least twice a week, games every weekend, and not to mention all of the crazy fun and adventures at the hotels. We all became one whole. So by the time the season had ended tears fell but smiles broke out because we all knew that a memory like this would last forever. We would all stick together if we saw each other in the hallway or even outside of school.  What does being united mean to you? Well I know that united means working together as one or not leaving anyone behind.  At Crowther no matter how different everyone is we all find a way to somehow work together. #UPCstories #cmjhsUNITED
UPC Stories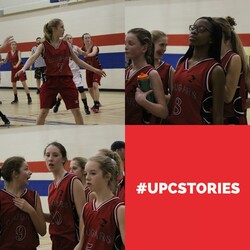 Coming into the school year, I was convinced that I could fit into any friend group, that I could get along with anyone. While that might have been true, I never seemed to test it out. My junior high career I had always stuck to the same three girls, doing the same things, making the same jokes, and talking about the same boys. It was what I was comfortable with, they were all I knew. As the school year went on I really started to see people. I watched as groups of friends walked down the hallways. I watched and made quick judgements on people as they went by, but only to stop myself and realize, why? Why had I been paying so much attention to the people walking around me (enough to make judgement) if I hadn't wanted to talk to them? To learn more about them, to learn who they really were? Working on my new friendship ethic, I had tried to push myself into new friend groups. Learning new things along the way, like the people who I didn't click with, and the people I did. I learned the ways to start a conversation, and others that didn't work too well. Although I was being more courages in making friends, I always went back to the three I knew because I thought that was who I was. I thought they defined me. Eventually, the Eastern Canada trip came around and I was shoved into a tiny room with roughly 40 girls that I had seen in the halls before. I didn't know them. I sat with the same three girls and watched as the other 36 gathered a group to play a game. They laughed and joked while I sat there on my phone. Eventually I got up, and I asked my three friends if they wanted to join the game with me. They all ignored my offer. When I managed to squeeze myself into the tight circle of girls that I wasn't too sure about, I was welcomed as if we had all known eachother for years. "I didn't think you'd come over." One girl said as I found a seat. Hearing that from a member of the group upset me. Why did she think I wouldn't come over? Did she think that I didn't care about the others? Maybe she thought I didn't want any other friends than the three I'd always had? I told her I was surprised she had thought that, then I asked the rules of the game. Surely by the end of the night, I had made 36 new friends. People who I had heard things about, people who I had judged but I had never thought to actually meet them for myself. The girls were amazing. They were all so kind, so welcoming, and they were all so different. We all came from different places, and we had all lived different lives. There was no need to feel judged or uncomfortable. In an hour I felt like I was at home. Before the game had ended, my three friends had come over to join too. I am so glad, that CMJHS, and the Eastern Canada trip gave me the eye opening opportunity to see people in a new light, and live my life how I should have been all along.
FAQ
1. What if I get lost in the first couple days and am late for class?
For the first couple days, teachers are pretty good about being patient with new students. There is an online map that you can use to check things out from home (or from any Internet-linked computer). Teachers will relax a bit for the first couple days, so don't stress too much about getting lost. If you get lost, just ask a teacher how to get where you are trying to go. The staff at Crowther are actually pretty helpful!
2. When we get there on the first day, what do we do?
On the first day of school, you will come in the main doors (those are the doors by the bell tower). Once inside, you will see a bunch of kids crowding around the glass at the office. They are looking at the class lists. You need to look at these lists to find out who your homeroom teacher is, and what classroom you need to go to. There will be many teachers in the hallway to help you find the room. They will probably ask you WHO your teacher is, and when you tell them, they will help you find the correct room. Once you've found the room, you can find a seat, and your homeroom teacher will answer all your questions from there!
3. When will we see what classes we have?
Your homeroom teacher will give you your schedule on the first day of school after you find your homeroom.
4. Where is my locker?
Your homeroom teacher will assign you your locker and give you a lock for it on the first day of school after you find your homeroom.
5. How much time do we have to get to the bus at 3:25?
You will have to be quick, and be organized and prepared for the end of the day. There are only a few minutes to get out to the bus, but if you are prepared, you will be to your bus in plenty of time.
6. Do we need indoor and outdoor shoes?
No, but we ask that you help our custodians out by wiping your feet well when you enter the school.
7. How many kids are in the school?
Generally we have about 520 students in our school.
8. How long do you get to switch classes?
When you look at our schedule, you will see that you get 2 minutes to switch classes.
9. In band do that teach us how to play the instruments?
10. How long is the bus ride from Carseland and what is the route?
The length of time depends on where you live. Your bus driver will contact you to let you know what time you will be picked up. Students from Carseland report bus rides ranging from 20 minutes to 50 minutes.
11. How many students are in grade 7?
Generally there are between 160 and 180 students in grade seven.